About Us
Therapeutic Massage Office, LLC has been helping people receive relief from pain and muscle spasms; aiding in relaxation for over 30 years.
The office specializes in deep tissue massage, pain relief management, general, gentle relaxation massages, facials, and energy work.
We have a wide range of clientele. Including those seeking relief from auto accidents to gentle relaxation massage, stress reduction.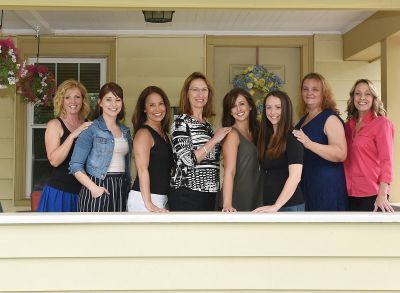 Therapists: Left to Right: Ellie Gray-Koba, Jill Kevalas, Kelly Hagerty, Katy Wakeman Forline, Kelly Cherhoniak, Kelley Gleason and office manager Kris Landry, Suzanne Sieff. All Therapists are Members of the American Massage Therapy Association (AMTA) or Associated Bodywork & Massage Professionals, and all are Connecticut State Licensed.
Ellie Gray-Koba became a Licensed Massage Therapist, LMT, in 2004, and has been working at TMO since 2013. Her work ranges from a relaxing swedish massage, to specific deep work. Ellie is available Sundays, Mondays, Tuesdays, Wednesdays, & Thursday's.
Kelly Cherhoniak became an LMT in 2007, and a Licensed Esthetician in 2014. She has worked at TMO since 2008, & bought the business in 2017. She offers deep tissue, general relaxation massage, prenatal massage, reflexology, hot stone massage, & customized facials. She enjoys incorporating massage & facials in one treatment. She is available Sunday, Mondays, Tuesdays, Thursdays & Fridays.
Jill Kevalas became an LMT in 2016, and has worked at TMO since. She is a wonderful addition to the TMO staff, offering general relaxation and specializes in deep tissue massage. Available some Mondays, Tuesdays, Wednesday's, Thursdays, Fridays, Saturdays and most Sundays.
Katharine Forline (a.k.a. Katy) is most often available M-TH afternoons, occasional mornings and 2 Saturday mornings per month. She became a licensed Massage Therapist in 1984, shes a movement educator, holds a BA in Dance, is a certified Yoga Tune Up® Instructor and is currently studying to become an InterPlay® Leader. Originally trained at the Connecticut Center for Massage Therapy, she is additionally certified as a Compassionate Touch® practitioner which is specialized body work for elders and hospice patients. At TMO Katy uses various bodywork modalities according to the client's requested focus, the response of their tissues and which techniques she believes will most enhance the client's wellbeing. Techniques may include Deep Tissue, Acupressure, Sports Massage, Myofascial Release, chakra or energy work, trigger point work and various other techniques acquired over many years of experience and training. Katy also enjoys the company of family, friends, dogs, the coast of Maine and her wonderful colleagues at TMO, where she has worked since July of 2015. She is the owner of Move2Joy LLC in Durham.
Jillian Arbour has been a Licensed Massage Therapist since 2013, and she is also a Reiki Practitioner. Her skills in massage therapy & reiki offer an incredibly unique, spiritual experience that enhance physical & emotional well-being. Jillian is available Fridays & Saturdays.